.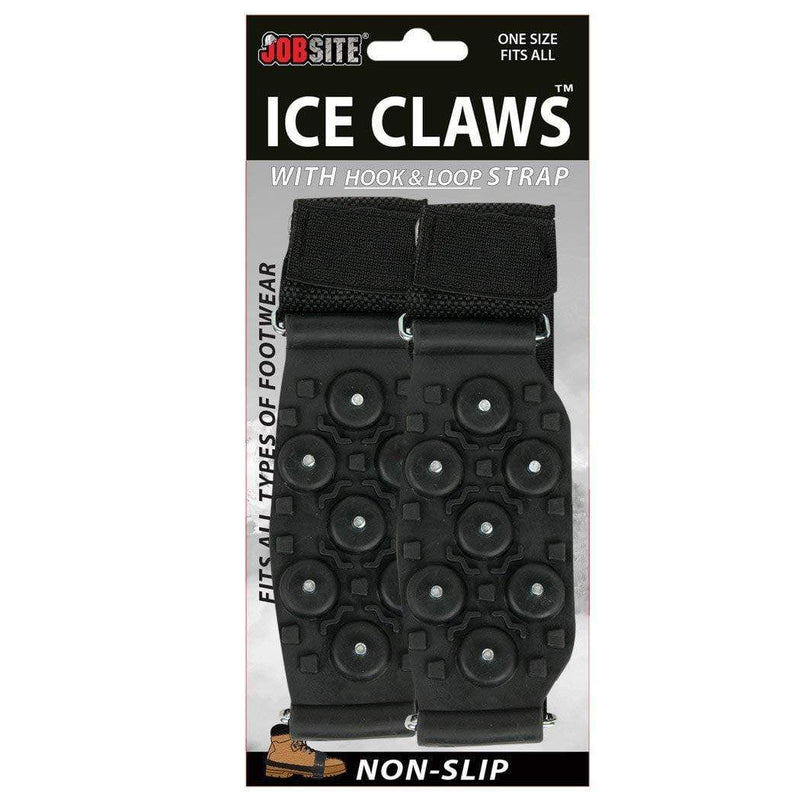 JobSite Ice Claws Snow and Ice Traction Cleats Easily Grips Over Boots and Shoes One Size Fits Men and Women
In stock
Lawn & Patio
Jobsite
54071
What Are JobSite Ice Claws?
JobSite Ice Claws are utility harness with metal lugs. They fasten around most all shoes and boots.
The spikes dig into the ground to minimize the likelihood of slipping on dry, snow covered, full icy or partial icy surfaces.
What Are The Benefits Of JobSite Ice Claws?
- Walk safer on slippery snow and ice.
- Makes outdoor work and play safer.
- Reduce the risk of harmful falls that cause injuries or even death.
- They grab traction on ice, bites into packed snow, and improves footing in winter conditions.
What Are The Key Features Of JobSite Ice Claws?
- Spikes under the front of your shoe and not the back to also allow stability on hard dry surfaces.
- Heavy duty velcro strap and metal cynch buckle.
- Abrasion resistant metal lugs will not wear down or snap.
- Quick and easy on and quick and easy off.
- Ultra lightweight 6 oz pair of Ice Claws can easily be folded up and placed in coat jacket pocket or purse
JobSite Ice Claws Are Useful For Those Cold Winter Days
- Work, Hiking, Hunting, Fishing, Shoveling Snow.
- Construction, Emergency Kits and Other Outdoor Jobs and Activities.
Portable easy-on traction spikes are great to have ready for any snow/icy conditions.
JobSite Ice Claws Usage.
Place the spikes just behind the wide spot of your forefoot this will prevent them from coming loose.
Package Includes
1 Pair JobSite Ice Claws.
JobSite Manufacturer Guarantee!
100% Money Back - Satisfaction Guaranteed!
Scroll back to the top now and click ADD TO CART to find the convenience you've been looking for!
NON-SLIP: The Studded Grips prevents slipping on snow or ice. The abrasion resistant metal lugs are rugged and will not break down, long lasting

HEAVY DUTY: 2" x 4" (5 x 10cm) treads are made of thick rubber. The cleats are a nice 1/8" (3mm) diameter steel that stick up 3/16" (5mm). The Velcro strap is 1 1/2" (38mm) wide with plenty reach for large boots or shoes

LIGHTWEIGHT: Weighing only 6 oz. (170 g) these non-slip cleats can be easily folded and stored in your coat, jacket, pocket, purse, backpack or briefcase. Great for hunting, fishing, shoveling snow, Ice mills, construction work, emergency personal and other outdoor jobs and activities.

TIGHT FITTING: The Hook and Loop strap with the Metal Cinch Buckle provides a Secure Fit for all types of footwear. You can quickly strap these on or off making these best studded cleats while walking into work, school, going to the mailbox or just taking a walk.

TRUSTED BRAND: 100% Manufacturer Money Back Guarantee