.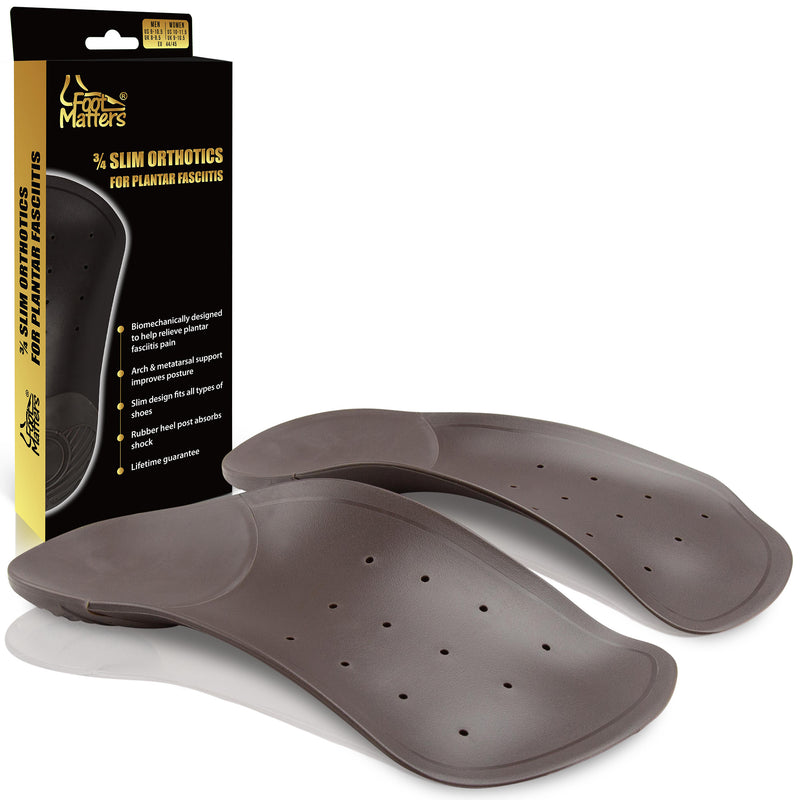 FootMatters 3/4 Slim Orthotic Inserts – For Plantar Fasciitis Pain Relief –Insoles for Women and Men with Arch Support & Heel Cup
In stock
Footmatters
58109
Bring the Joy Back To Your Step ... Discover the power of authentic orthotic inserts. FootMatters orthotic shoe insoles don't just provide comfort, they are biomechanically designed to help reduce plantar fasciitis pain, provide arch support, and improve posture.
All-Day Comfort You'll Relish ... These arch support insoles have a rubberized heel stop for shock absorption & reduced slippage, keeping them in place.
For Flats, Boots & Everything In Between ... Whether it's men's dress shoes or that pair of cute but painful flats, our slim 3/4 orthotics fit like a glove.
Dry Feet are Happy Feet ... That's why we designed our orthtics insoles with a smooth hard surface with ventilation holes. This helps keep your feet cool and dry, preventing the moisture buildup that leads to funky feet.
Lifetime Guarantee for Total Peace of Mind ... FootMatters ¾ Slim Orthotics are designed to last a lifetime, and we're confident they will. If they don't work for you, return them free of charge & we'll give you a full refund.
013977581090
013977581106
013977581113
013977581120