.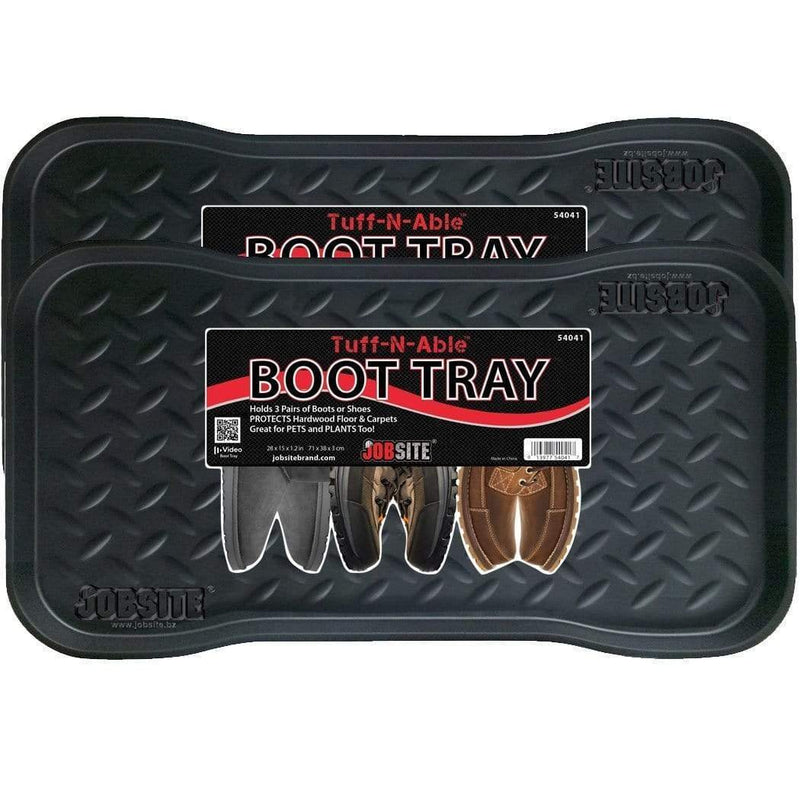 JobSite Heavy Duty Boot Tray, Multi-Purpose for Shoes, Pets, Garden - 15 x 28 Inch
In stock
Lawn & Patio
Jobsite
14041
BIG Holds 3 Pair of Boots or Shoes - 28'' L x 15'' W x 1.25'' H
HEAVY GAUGE Rigid Molded Plastic with Contouring Inner Reinforcement for Good Support, Yet Lightweight and Portable
RAISED RIMS 1.25 Inch to Hold in Melted Ice, Water & Debris from Leaking onto Floor
PERFECT FOR STORING Gardening or Pet Supplies Too 
What Is JobSite Heavy Duty Boot Tray?
Jobsite heavy duty boot tray is a shallow container with raised rims, perfect for
use near entryways to store dirty or snow-covered shoes and boots off the floor
Its multipurpose design will be useful in many situations!
What Are The Multiple Benefits Of Using Jobsite Heavy Duty Boot Tray?
- Jobsite heavy duty boot trays are ideal for storing dirty or snow-covered boots and shoes near entryways.
- Jobsite boot trays can help you keep your car clean! Use them to transport dirty equipment in your car.
- Help keep the mess off your floors! Use them under your pets? food and water dishes or litter box.
- Jobsite trays work well as humidity trays under houseplants, they? re great for use as seed starting trays as well.
- Jobsite boot trays are great for storing; gardening supplies, pet supplies, or for use anywhere a watertight tray would be beneficial.
JobSite Heavy Duty Boot Tray Features.
- Heavy gauge rigid molded plastic with contouring inner reinforcement for great support.
- Elevated grips on the inside base to keep boots above wet areas so they can dry off
- Plenty big enough to hold 3 pairs of boots or shoes.
- 1.25 inch raised rims to hold in melted ice, water, and debris from leaking onto the floor.
- Sturdy, yet portable and lightweight for any location.
JobSite Manufacture Guarantee!
100% Money back - Satisfaction Guaranteed!
Scroll back to the top now and click ADD TO CART to find the convenience you've been looking for!