.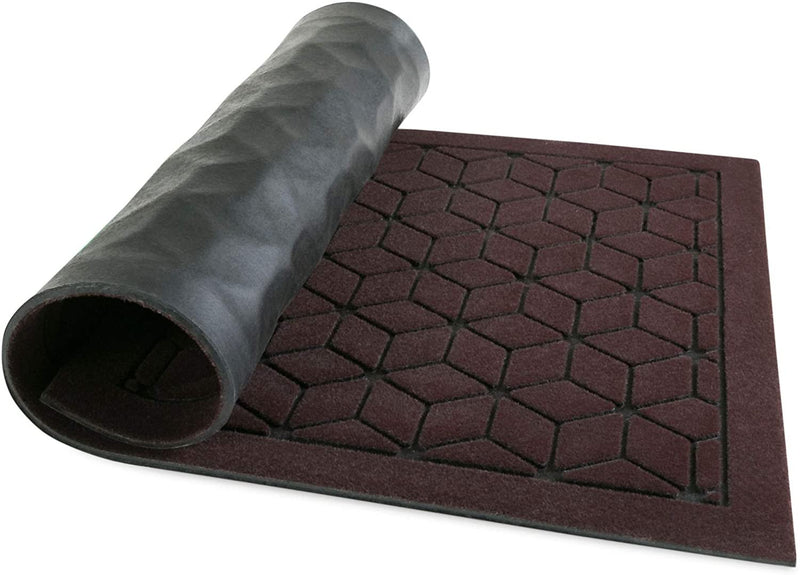 NINAMAR Rubber Door Mat (29.5" x 17.5") - Durable Non-Slip Indoor/Outdoor Entry Rug Made from 100% Natural Rubber - Traps Liquid & Debris - Keep Home Entrance Clean - Coffee
Out Of Stock
NINAMAR
54273
Made From Thick Durable Rubber
This satisfyingly thick Non-Slip Doormat is made of
100% natural rubber to offer you reliable and
long-lasting use for years to come.
Choose the quality you can truly rely on with our durably
natural rubber doormats.
Reliable All Year Round
Whether you want your doormat to survive the
snow, ride out the rain or hold tight in the heat, our
special Non-Slip Rubber Doormat has you covered,
Specially designed for all-weather use, this rubber
doormat can be safely kept outside throughout the
year and get through whatever the elements throw
at it.
Traps Liquid & Debris
Make sure all that dirt and water on your
footwear stays outside and not in your
entrance hallway. Wipe your shoes on
your new doormat and experience its
unbeatable liquid and debris trapping
action for yourself!
Easy To Clean
Your new Non-Slip Rubber Doormat
simply needs a shake, brush or vacuum
to get clean again. Even those tough
stains only need spot cleaning with mild
soap and water to have your doormat
looking like new again!
Great For Indoor Or Outdoor Use
Want to see how your new doormat
looks inside? We've designed our
non-slip doormats to be equally
attractive and effective whether used
indoors or outside.
✔ STAYS TOUGH IN ALL WEATHER … Whether enduring Fall rains or Winter snow, our outdoor doormat packs a hefty weight and solid design that remains durable and effective all year round.
✔ NATURAL HEAVY RUBBER BASE … 100% all-natural rubber base of our oversized door mat keeps it firmly sat where you want it. No more door mats being blown away by the wind!
✔ USE INDOORS OR OUTDOORS… Whether you use yours as an indoor or outdoor door mat, enjoy effective moisture holding and dirt removing action for a cleaner home entrance.
✔ TRAPS LIQUIDS & DEBRIS … Our entry rug is specially designed to trap and hold both liquids and debris, so you know everyone entering your home has dry dirt-free footwear. Easy to clean - Simply shake, brush, vacuum or spray down with a hose for easy everyday cleaning.
✔100% MANUFACTURER SATISFACTION GUARANTEE... if something breaks we'll take full responsibility. The risk is on US when you can get a refund, no questions asked. Simply buying from us automatically enrolls you in our Customer Coverage Program!